Developing the Next Installment: Chilly
---
Hello everyone!
First of all, thank you very much for playing and purchasing Imi's Dungeon!
It's been 7 months since the release of Imi's Dungeon. As promised, I am currently developing the next installment of Imi's Dungeon which will be available exclusively for desktop. It is "Imi's Dungeon: Chilly" which is cold themed dungeon inspired from winter and cold season this month. The game will be released in this game page. So, if you already purchased the game before the release of Chilly, you don't need to purchase it again. The game is planned to be hopefully released this month.
Some new game mechanisms and features will be added in the game, like achievements, Item Mode (which will be available after first completion of the game), and gimmicks. Currently, the remaining which need to be done are building maps, making new gallery images, making new music, and other I haven't identified yet.
Also some extra. I haven't introduced a bit the name of the characters since the debut of Imi's Dungeon.
The girl with cyan hair: Ceana Coldsky, around 16 years old.
The boy with dark blue hair: Cleave Coldsky, around 14 years old.
Even they share the same last name, they aren't blood-related at all. They are also my old OCs which were created over 10 years ago. Very long time indeed but never got game debut until this year.
Back to the game, here's a peek of "Imi's Dungeon: Chilly" in slippery level. The blue flower (which might be changed in the future) is from Item Mode. In the first gameplay, it will not appear so player can focus on completing the dungeon first until the deepest part of the dungeon.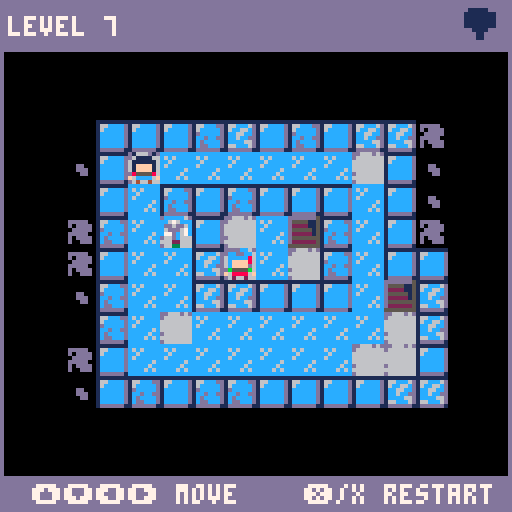 That's all for now. Stay tuned and thank you very much for waiting!